Diamondite Perfect Vision Glass Cleaner Aerosol is a foaming surfactant cleaner that lifts and removes grease, bugs, and films from automotive glass better than any ammonia-based glass cleaner. Wipe away smoker's film to reveal a perfectly clear, streak-free shine. Diamondite Perfect Vision Glass Cleaner™ gives you a perfectly clear vision of the road ahead.
Diamondite Perfect Vision Glass Cleaner ™ uses nonionic surfactants as its primary cleaning agents. Unlike ammonia, surfactants lift and suspend contaminants without affecting the glass itself. This technology allows Perfect Vision to actually remove dirt, films, and grime from the glass instead of spreading it around. Perfect Vision Glass Cleaner leaves the glass virtually invisible.
The aerosol form of Diamondite Perfect Vision Glass Cleaner clings to the glass with a low-moisture foam. With less wetness to wipe away, you'll be able to get a streak-free shine with less wiping and buffing. Plus, the aerosol foam is easy to direct with little or no overspray.
If overspray does occur, just wipe it away. Because there is no ammonia, Perfect Vision will not dry out surfaces or cause them to yellow.
Car exhaust is one of the primary culprits of the hazy films that appear on the outside of your vehicle's windshield. It causes the windshield wipers to leave streaks that create unsafe visibility. Diamondite Perfect Vision totally eliminates the oily exhaust film so your windshield wipers work more effectively and you can see the road more clearly.
Inside the vehicle, the two main causes of haze and films are cigarette smoke and gases released by new plastic. The latter is only a problem in new cars but it can be very frustrating for new car owners. Diamondite Perfect Vision breaks up films on interior glass and completely removes them. No streaks, no smears. Smoker's film disappears along with that yellow tint.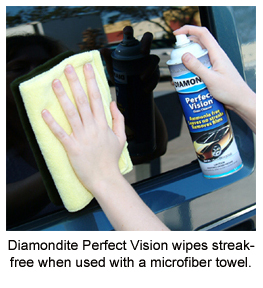 However your factory window tint is safe and sound. Diamondite Perfect Vision Glass Cleaner™ contains no ammonia or harsh solvents. It safely cleans the Mylar without drying it out or causing it to peel.
The key to cleaning automotive glass, particularly the windshield, is to use long strokes in both directions. Use a soft, clean Microfiber Glass Towel to wipe up and down in long strokes. You should start at the top of the glass and wipe all the way to the bottom. Then flip the towel and wipe across the glass at least to the middle of the windshield. Getting auto glass completely clean may require a couple of tries – after all there is airborne pollution and oil on it – but the good news is that you can achieve perfectly clear, streak-free glass with Diamondite Perfect Vision Glass Cleaner™.
Diamondite Perfect Vision Glass Cleaner Aerosol is made of the finest quality cleaning agents that are proven to clean glass better than over the counter or household cleaners. Improve the appearance and clarity of your windshield and windows for a more perfect vision of the road ahead.


Federal regulations prohibit the shipment of aerosol products by air. This item is shipped by UPS Ground only.

Item #:
DIA-701
Size:
19 oz - Aerosol